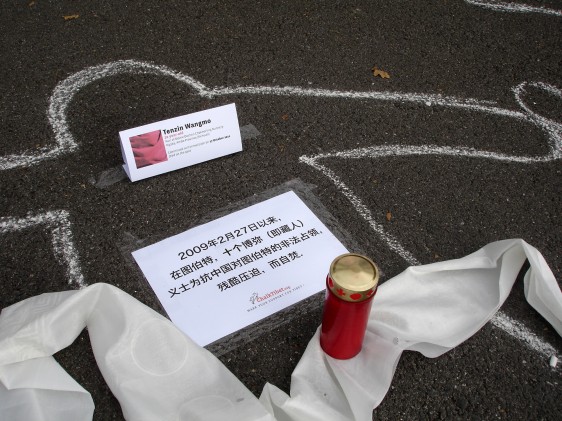 ChalkTibet action carried out during a demonstration in front of the United Nations Office in Geneva, Switzerland.
A chalk outline was drawn for each of the ten Tibetans who committed self-immolation since 27 February 2009. A plate with the name, age and details of each person, as well as a candle, a khatag and small Tibetan flag were added inside the outlines. (These individual details, ready to print, fold and fix on the ground, can be downloaded as a PDF file from here.
The following text was also added in nine different languages, including English, Tibetan, Chinese, Russian, Arabic, French, German, Spanish and Italian:
"Since 27 February, 2009, ten Tibetans committed self-immolation in Tibet in protest against China's brutal occupation."
The Chinese translation featured above reads:
2009年2月27日以来,在图伯特,十个博弥(即藏人)义士为抗中国对图伯特的非法占领,残酷压迫,而自焚.
All translations can be downloaded as a PDF file from here.