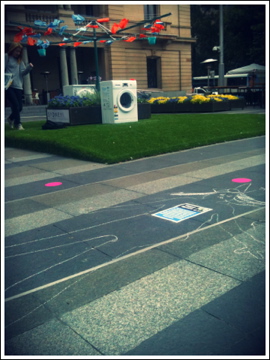 We asked some young people near by to help us out!
The installation art in the square was for people to hang out their 'dirty little secrets'
A poster with Chinese military in Tibet was hung on the close line saying:
"CHINAS DIRTY LITTLE SECRET!
Tibetans want
FREEDOM from
Chinese Oppression!!
Ten young Tibetans have set fire to themselves in eastern Tibet since March 2011; seven since 26 September. Five have died including a nun. These unprecedented and truly desperate acts are a cry to the outside world for help".